No doubt both my regular readers will have noted that my content has dropped off for the last few weeks (thank goodness for Zero Punctuation, eh?). I'm in Warhammer Online and I'm hooked.

My highest level character is only mid 20s (out of a max 40), so really I don't feel comfortable doing a full review, but I also feel that already too much time has passed where I've been playing the game and not writing about it. So, here's my look at the non-endgame tiers of Warhammer Online.

First of all, let's get something out of the way - the experience of playing Warhammer Online is very distinct from the experience of playing World of Warcraft. The only thing they really have in common is the layout of the default interface and the ability to add in LUA-based interface addons. Yes, WoW draws on Warhammer for its inspiration and basic art, but the two diverged a long time ago. Warhammer's atmosphere is much more dark, bestial, brooding and dystopian. Warcraft "reformed" the Orcish Horde and now there's a "sort of" war going on between two sides where there's really no bad guy (except, of course, the NPCs), whereas the war between the forces of destruction and order is so bloody and desperate that lofty ideals and morality have pretty much gone out the window in a frantic scrabble just to survive. The forces of Destruction are unrepentantly evil, and the forces of Order are just as likely to impress a 15 year old into military duty and execute his Father for objecting.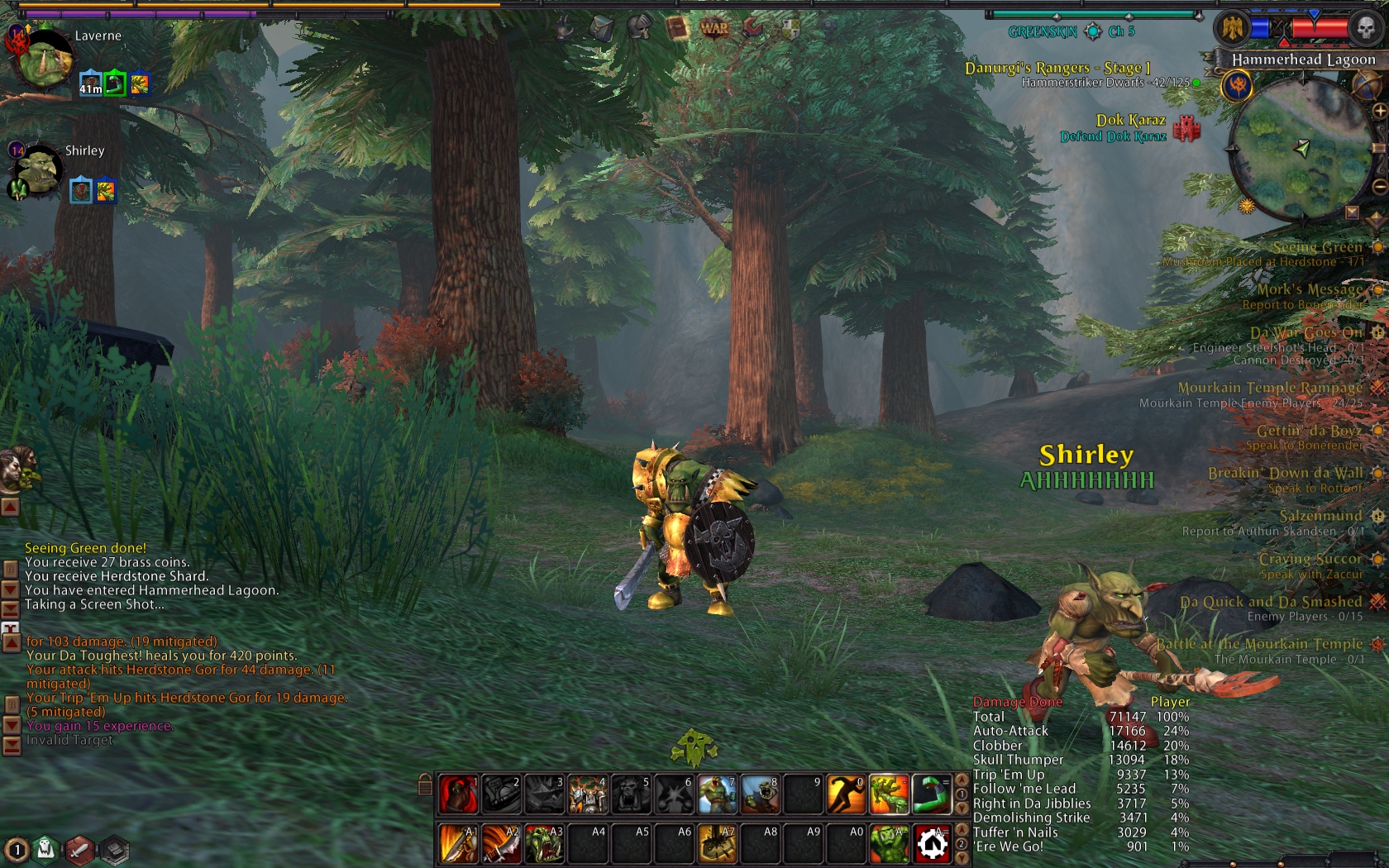 Furthermore, Warhammer Online was designed from the ground up as a game where PvP, or rather, RvR, is the focus (as opposed to WoW which was entirely calibrated around PvE and continues to make that the primary focus of the game, all the way through the endgame). You can engage in RvR (Realm vs Realm, the Mythic/EA word for team-based objective-oriented PvP combat) from level 1, in your newbie gear and still stand a reasonable chance of contributing and advancing. As a matter of fact, PvE content takes a back seat and becomes just "something to do" to fill the relatively small gaps between RvR breaking out. This emphasis means that for the most part the character classes are extremely well balanced against each other (with a couple small exceptions to be noted later), and exponentially raises the replayability factor of the game at any given level.

Warhammer is extremely casual-gamer-friendly, in that the content does not require large consecutive blocks of time. The matchmaking tools are also very good, featuring a grouping model very novel for the genre: the "open" group. Unless you otherwise specify, your group can be joined at any time by anyone who wants to join it (though the group leader still retains the ability to kick out members, set loot rules, even change the group to the traditional "closed" group). Also, the UI has an excellent tool to find nearby "open" groups and get you into them. RvR scenarios typically run 15 minutes and "public quests" rarely take more than half an hour, with rewards being doled out generously. Also, there are separate rulesets available on special servers to suit the player's taste, whether you desire RvR to be limited only to designated areas or for there to be the potential for combat with the enemy no matter where you are. There are no "hardcore free-for-all" PvP servers as of yet where team restrictions would be ignored for PvP combat... and really, the nature of the game doesn't really lend itself to such a setup, and it isn't needed in any case.


The world is broken into 3 theaters of conflict, with 4 tiers of progression in each area. Each tier area has a slider of "control" which moves according to who is winning in RvR (both kills and objectives). Control of an area grants bonuses to the winning side (increased XP and cash drop rates, or better merchant prices for example) and control of some areas "opens" other areas to invasion at the 4th tier. The final objective of course is to invade the enemy's capital city, kill their leader and leave no stone standing upon another. This is a rather long and convoluted process of territorial acquisition.

The game itself however is pretty taxing on your hardware. If you haven't upgraded in the last year or two you will probably feel some of that strain on the kind of graphical settings you see in screenshots. You can turn them down, but texture quality tends to degrade very quickly when you do that, and even on low settings you really ought to have 2 gigs of ram, a multicore processor and a fairly recent video card.

The PvE has the usual "go here and kill this" type quests up for offer, but the real star of the show are the "Public Quests." Public Quests, or PQs for short, are multistage npc-driven events which usually require player cooperation to complete. You don't have to go see somebody to get a public quest, nor turn it in. Just wandering into the area automatically makes you part of the public quest. Most PQs are 3 stages, the first stage usually requiring the mass slaying or gathering of plentiful mobs or items that pop up on the ground. The second stage will usually be either a "miniboss" or another item-driven objective (burn down X houses, for example), and the final stage is almost always a boss encounter. The game keeps track of who contributes to the completion of these objectives, because when the PQ is successfully concluded there is loot to be rolled for (rolling happens automatically but transparently, like a scoreboard), and the more you contribute the higher a bonus will be added to your roll. This generally makes for a rather equitable distribution of loot, but it isn't perfect. I personally HAVE walked into a PQ that was nearly done killing the 3rd stage boss, took two whacks at the boss mob, and when it was over I won first place in the rolling (granting me the best item that dropped) and people who contributed exponentially more to the PQ got lesser items or nothing. Conversely, I have also many times been the "most contributing" member and walked away with nothing more than the XP and "influence" I gained for doing the PQ (each little area has an "influence" bar you can fill up, with rewards available once you do. Doing PQs is the only way to raise influence). However, the injustice is rather diminished because the PQ will reset itself quickly, and you can go through again, this time with yet another roll bonus for "persistence" because you did the PQ already and didn't win anything.


Really, though, as far as I'm concerned, PvE is only something to do in the sparse minutes between RvR scenarios and keep fights... not something I ever seem to need to do for any stretch of time. Really, I often don't WANT to level up, I want to stay at the top of the tier I'm in, trashin' bozos... but eventually the slaughter levels me despite my wishes and I'm back to being a small fry in the next tier. But fortunately, the game is balanced such that it is still entirely plausible for low level characters to contribute meaningfully in RvR, within their appropriate tier. If the influence rewards for doing PQs weren't so nice, I doubt I'd PvE at all, personally.

At this stage (a month after release), the patches have been small and frequent, mostly concerned with fixing bugs. There are still some pesky bugs flitting about but nothing near the caliber of Age of Conan's problems, and there are more things coming. Mythic maintains an excellent avenue of communication to their playerbase through their "herald" website and their GM, Mark Jacobs actually spends a great deal of time posting on the IGN warhammer forums (Mythic seems to be repeating their practice from DAOC of not having "official" forums but using IGN's forums extensively). I worry about the influence of the hordes of brain-dead whiny preteens (and mental preteens) that hang out at IGN searching for reasons to hate the games they play, but so far Mr. Jacobs has proven rather resilient and resistant to their influence. Mythic clearly has remembered the lessons they learned during DAOC's time in the sun and is building upon them carefully.

At this point, I can give my hearty endorsement of Warhammer Online, and recommend it unflinchingly with the one caveat that you need a pretty nice system to get max enjoyment out of it. Not as much so as Conan, but still pretty beefy. I think I've found my drug of choice for the forseeable future.

Verdict: A+.